About Wirksworth Town Council
---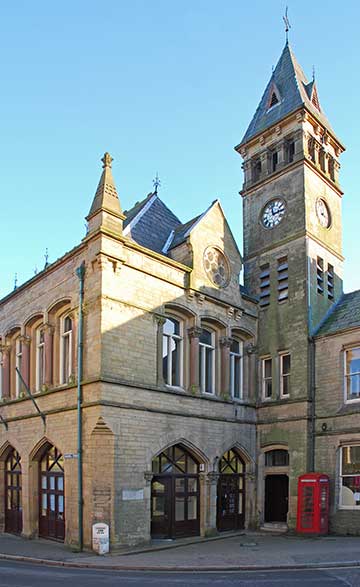 The Wirksworth Town Council was established in 1972 to provide the town with a local authority upon the introduction of the West Derbyshire District Council in 1974 (later renamed the Derbyshire Dales District Council). The West Derbyshire District Council encompassed the former Urban and Rural District Councils at Ashbourne, Bakewell, Matlock and Wirksworth, and provided a centralised district authority based at Matlock. The Town Council was granted powers to deal with parish issues, and were appointed consultees on both parish and district matters.
THE TOWN HALL – WIRKSWORTH
Built by the Freemasons in 1871, the Town Hall was designed by the architect A B Bradby. In common with most Victorian buildings, styles were 'borrowed' from previous periods in history. The Main Hall leans heavily towards the Jacobean period and has been decorated to emphasise the beamed ceiling. The Italianate facade conceals a number of offices and is also the home of the public library and a charity shop.
THE MEMORIAL HALL – WIRKSWORTH
Built in the 1930's, the Memorial Hall has had a chequered career. Attached to the old cinema, it started life as a 'country club' and went on to become a transport cafe.  The downstairs kitchen and hall is now hired out to the community, the upstairs has tenanted office space.
TOWN COUNCILLORS 2023/24
Town Mayor: Cllr  Sean Barker
| | | | | |
| --- | --- | --- | --- | --- |
| |   | | | Register of Disclosable Pecunary Interests |
| Sean | Barker | 07990 985395 | s.barker@wirksworthtowncouncil.gov.uk |  17/5/23 |
| Paul | Carr | 07764 800488 | p.carr@wirksworthtowncouncil.gov.uk | 18/5/23 |
| Alison | Clamp | 01629 823870 | a.clamp@wirksworthtowncouncil.gov.uk | 17/5/23 |
| Andy | Jordan | 01629 824396 | a.jordan@wirksworthtowncouncil.gov.uk | 17/5/23 |
| Elisa | McDonagh | 07838 312174 | e.mcdonagh@wirksworthtowncouncil.gov.uk | 17/5/23 |
| Karen | Player | 01629 824828 | k.player@wirksworthtowncouncil.gov.uk | 17/5/23 |
| Andy | Pollock | 01629 823752 | a.pollock@wirksworthtowncouncil.gov.uk | 17/5/23 |
| Frances | Rostron | 01629 823610 | f.rostron@wirksworthtowncouncil.gov.uk | 17/5/23 |
| Pam | Taylor | 01629 824457 | p.taylor@wirksworthtowncouncil.gov.uk | 17/5/23 |
| Chris | Whittall | 01629 822648 | c.whittall@wirksworthtowncouncil.gov.uk |  17/5/23 |
| | | | | |