Wirksworthian installed as High Sheriff of Derbyshire
---
Wednesday 5 April was a proud day for Wirksworth as local Theresa Peltier was installed as the new High Sheriff of Derbyshire in a ceremony at St Mary's, followed by a reception in the Town Hall.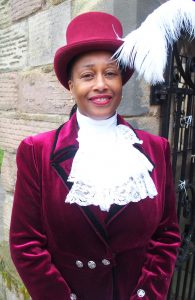 As the first Black High Sheriff of the county, this year holds particular significance as it also marks the 75th anniversary of HMT Empire Windrush arriving at Tilbury Docks and Theresa will be paying tribute to those from the Windrush Generation who have made a significant contribution to the county. In her 12 months in office she also hopes to support the large  Deaf community in Derbyshire, have a focus on women in prison (linking with Foston Hall) and to promote the fostering and adoption service, a cause she has long-supported.
The role of the High Sheriff dates back to Saxon times, and historically they were responsible to the Monarch for the maintenance of law and order within their county. Theresa brings with her 27 years of experience across three police forces, prior to her retirement in 2019 as Head of Equality for Derbyshire Police. The relationships she has formed over the years have enabled her to have continued engagement with the judiciary in her role as High Sheriff.
Her career started in earnest in 1989 when employed as a criminal law clerk for the Smith Partnership Solicitors where she remained for three years, gaining valuable experience. She embarked on a career in policing, firstly with Nottinghamshire Police, making charging decisions and advising officers on the standard of evidence. Whilst raising her young family, she also studied at Nottingham Trent University gaining her management degree. Theresa eventually diversified into the areas of equality, diversity and inclusion during her career with Nottinghamshire, Derbyshire and Bedfordshire police forces. With a strong interest in social justice, she has held numerous positions, sitting alongside her core role, having always held a strong commitment to equality and fairness. As a consequence, she immersed herself in the force's staff support networks, holding various committee positions where she was able to influence change for the benefit of officers and staff. She was part of numerous strategic governance boards, contributing to the force's direction of travel, as well as representing the force on a national platform. Her role enabled her to work with the Home Office, National Police Chief's Council, the Equality and Human Rights Commission, the College of Policing and national staff associations. She also spent many years as a Victim Support volunteer, trained as a mediator and life coach and in 2007 introduced a youth leadership and mentoring programme.
Theresa considers herself blessed to have been the recipient of a number of awards. In 2009, she was honoured to become the national recipient of the Police Staff of the Year Award from the British Association of Women in Policing and has received two Chief Constable Commendations for her work in Equality and Inclusion. Just prior to her retirement she received accolades of Police Staff of the Year and Lifetime Achievement Awards from the National and Derbyshire Black Police Associations.
Since her retirement, she has become an Associate with the College of Policing and is an active member of our community in Wirksworth. She enjoys the performing arts, jazz, reading and fell walking. Theresa hopes to use her interests and those of others, to fundraise during her year.
Theresa said:
"I feel incredibly privileged and excited to be given this opportunity. I hope to visit those parts of Derbyshire unknown to me, use my platform to highlight good causes, and link with partners to bring about change and recognise great work."